Opiate Addiction
If you or someone you care has an opiate addiction, you are not alone. Of the 20 million Americans who struggle with substance abuse, 2 million are abusing prescription painkillers and 500,000 are abusing heroin.1 Both are opiates that can be highly addictive, but not everyone will get opiate addiction treatment.
What Are Opiates?
Opiates are natural opioids and opiate derivatives that are derived from the opium poppy plant. Opiates are popular throughout the world and have been used for thousands of years by various cultures. Opiates work by activating opioid receptors in the brain that create a calming and euphoric feeling. In the United States, some opiates are used medicinally to treat pain, but because of their addictive qualities, they have high rates of abuse. While opiates can come in several different forms, some common opiates are opium, codeine, morphine, and heroin. If you or someone you know becomes addicted to one of these drugs, opiate abuse treatment may be required to stop.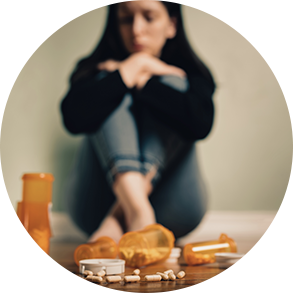 Opiate Abuse Symptoms and Opiate Withdrawal
Because they are sometimes used in the medical field, it can be hard to know when someone has developed an addiction to opiates. There are several warning signs of addiction, including noticeable behavioral changes, but opiate abuse is also accompanied by particular physical and psychological symptoms as well.
Some signs of opiate abuse and use include:
Doctor shopping
Lying or deceitful behaviors
Mood changes
Social withdrawal
Unusual sleep patterns

Weight changes
Empty pill bottles
Pinpoint pupils
Mental confusion or memory problems
Poor concentration

Anxiety
Nausea
Constipation
Shallow breathing
Everyone is different, but long-term opiate abuse generally makes these side effects more severe. It can also lead to health problems and even make chronic pain worse if they do not get opiate addiction treatment in time. Because opiates are so addictive, many people who become dependent on these drugs and start to experience opiate withdrawal symptoms as soon as a few hours after use has stopped. These symptoms usually include flu-like physical symptoms as well as psychological side effects like anxiety and drug cravings. Because these symptoms are unpredictable and could lead to more serious health complications, an opiate detox center is recommended, especially for people in poor health.
The Opioid Epidemic & Opiate Overdoses
Opioids have been a prevalent topic in the news for the past few decades because of the opioid epidemic. Along with synthetic opioids, opiates have been a big contributing factor to this story.  The abuse and addiction of these substances have risen dramatically within this time. One study estimates that around 21-29% of patients prescribed opioids for chronic pain will end up misusing these medications.2
In particular, there have been several concerns about opiate and opioid overdoses. The number of drug overdose deaths from any drug was four times higher in 2018 than it was in 1999, and it is estimated that nearly 70% of these deaths involved an opioid.3 With such high numbers, an opiate addiction is a scary problem to ignore. If your loved one is showing signs of drug overdose, get medical attention immediately.
Because opiate addictions have such a large prevalence of overdose deaths and because detoxing on your own can be dangerous, it is better to go to a substance abuse treatment center for help if you or someone you care about is looking for treatment for opiate abuse.
Getting Treatment for an Opiate Addiction
Because opiates are so addictive, opiate abuse treatment and recovery can be a long process. The first step in this process is often a medical detox so that the body can safely be weaned off of opiates. After this process is complete, patients typically need to undergo other treatment programs to help them avoid an opioid relapse as well as address their secondary issues related to their opiate addiction. These programs usually include psychotherapy programs, group therapy, and individual therapy programs with their appointed psychologist.
Recovery is a life-long journey and people need to choose sobriety every day. At Banyan Treatment Centers, we want to be here for you and your loved ones through every step of the recovery journey. Contact us today at 855-722-6926 to learn more.
Most Insurance Plans Accepted
At Banyan Treatment Center our goal is to make sure that anyone who needs treatment from drug and alcohol addiction are able to get the help needed to assist them on the road to recovery. If you don't have insurance contact us to inquire about alternate methods regarding treatment for yourself or a loved one.