Alcoholism Treatment at Banyan Heartland
In most areas, a person can walk into a bar, restaurant, or liquor store and procure the drink of their choice. With the high level of access that the average American has to alcoholic beverages, it is no wonder that so many citizens end up struggling with some kind of addiction. Alcoholism is a problem that won't go away on its own and tends to get worse if left untreated. If you or a loved one has a drinking problem, our alcohol rehab for Illinois residents is crucial for getting and staying sober.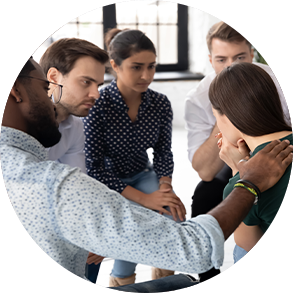 Binge Drinking vs. Alcoholism
Alcohol use disorder is a pervasive problem nationwide. It includes binge drinking, alcohol abuse, and alcoholism. When you look at the numbers on binge drinking alone, there are 17 billion binge drinks consumed in the nation each year.1 Alcoholism statistics are also sobering, with a reported 15.1 million American adults struggling with alcohol use disorder.  
Something that our Illinois alcohol rehab wants you to consider is the differences between binge drinking and a full-blown addiction. While both can cause substantial damage to various aspects of a person's life, these instances are not always the same. Binge drinking refers to a pattern of alcohol consumption that brings the blood alcohol concentration (BAC) to 0.08 percent or higher. Alcoholism, on the other hand, is a mental health diagnosis that is hallmarked by a person's inability to stop drinking despite the presence of harmful consequences.  
When to Get Alcohol Addiction Treatment
While many people believe that a person needs to hit "rock bottom" before they get alcohol abuse treatment, this is simply not the case. Some people will visibly hit rock bottom with their drinking habits, but others, like high-functioning alcoholics who appear to lead mostly normal lives, may never seem to reach this imaginary point. Drinking affects people in various ways. Just because you haven't hit rock bottom doesn't mean you don't need help.  
Even with high-functioning alcoholics, drinking can lead to relationship problems, health issues, poor mental health, financial struggles, and even run-ins with the law. No matter where you or a loved one falls on this scale, do not wait to get help with our alcohol addiction treatment at our Gilman, IL, Banyan rehab. 
What Does Alcohol Abuse Treatment Look Like?
The first step of alcohol abuse treatment for most of our patients is through our Heartland detox. This is where they can safely withdraw from alcohol while being supervised by our medical staff, who are trained to handle withdrawal symptoms and make the detox as comfortable as possible. This process focuses on eliminating the body's dependence on alcohol and removing harmful toxins from the body's system. 
At our alcohol rehab in Illinois, we believe in helping patients heal physically, emotionally, and even spiritually from the scars that their drinking has left behind. Once detox is complete, our patients will transition into our residential addiction treatment or another treatment program to begin to focus on the secondary issues associated with alcoholism and the problems that can lead to a relapse. This treatment includes personalized therapies for addiction treatment and ancillary programs designed to promote long-term sobriety and comprehensive healing.  
With time, patients will not only develop a better understanding of their drinking problem but also gain more control over their lives because of it. Before they leave, patients will also focus on relapse prevention so that they can solidify their sobriety and confidently reenter the real world after programming is complete. Patients in our program will enjoy structured schedules of treatment, relaxation, and self-work. They will also be part of a community of like-minded individuals who support one another in recovery. 
One of the Best Alcohol Treatment Centers in Illinois
At Banyan Heartland, we offer effective treatment for alcoholism for people looking to achieve long-term sobriety. Our facility is located in tranquil Gilman, Illinois, and is only a short distance from Chicago, Naperville, and Bloomington. Patients can benefit from our facility's relaxing setting and use this time to focus on their sobriety journey. 
Alcoholism is a challenging addiction to overcome, but sobriety is possible. With the right alcoholism treatment, men and women of all ages and backgrounds can overcome their alcohol use disorder. 
At our Heartland treatment center, we are here to support you or your loved one on the journey of recovery. Contact us today to learn how you can get started on one of the most important ventures of your life. 
Sources:  
Centers for Disease Control and Prevention –

During binges, US adults have 17 billion drinks a year

 

NIH: National Institute on Alcohol Abuse and Alcoholism –

Alcohol Facts and Statistics

 
Related Reading 
The Long-Term Effects of Alcohol 
Most Insurance Plans Accepted
At Banyan Detox Heartland, our goal is to make sure that anyone who needs treatment from drug and alcohol addiction is able to get the help needed to assist them on the road to recovery. If you don't have insurance contact us to inquire about alternate methods regarding treatment for yourself or a loved one.