Opioid Addiction Treatment at Banyan Heartland
The opioid epidemic in Illinois has been expanding in recent years, with opioid overdose deaths increasing by 82% from 2013 to 2016.1 The state has made major efforts to fight this growing epidemic, dedicating efforts to better educate the public and make Narcan more available. At Banyan Heartland, we're doing our part to reduce this epidemic by helping patients find sobriety through opioid addiction treatment in Illinois. Our program includes medically monitored detox in Illinois, inpatient care, outpatient programs, and a patient alumni program. Those who are seeking sobriety from opioids are encouraged to reach out to our team.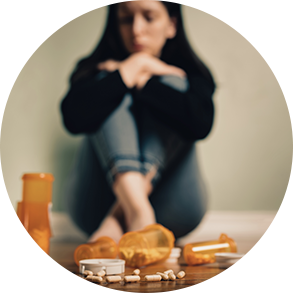 The Worsening Addictions – Opioids and Heroin in Illinois
To understand how important professional opioid and heroin addiction treatment is, let's first consider the mechanisms behind opioid addition and why it's getting worse in the state. In 2017 alone, Illinois healthcare providers wrote 51. [1] opioid prescriptions for every 100 people. [2] While this is slightly below the national average, it's still shocking.
Many addicts are introduced to opioids through perfectly legal prescription pills. As tolerance builds, addicts need more pills to feel the same effects. And as prescriptions run out or higher doses are needed, patients may turn to stronger or illegal opioids that contain fentanyl, the substance responsible for many overdoses. Those who started with an addiction to pain pills may turn to heroin when they can't get their fix.
Prescription Pill and Heroin Rehab Centers in Illinois
At Banyan Heartland, we're committed to combating the worsening opioid epidemic. We help patients who are addicted to fentanyl, opioids, pain pills, or heroin in Illinois. Our center for opioid and heroin addiction treatment helps patients through the entire recovery process, including important steps such as:
Detox
PHP Care
Residential Programs
IOP & OP
Alumni Recovery Programs
Because opioids are dangerous drugs, we provide medical support and supervision for each step of treatment. This helps our team ensure that any medical needs are addressed quickly. Heroin detox can include withdrawal symptoms that may require medical attention, and there are psychological needs many patients have as they work through 12-Step treatment in Illinois. We are proud to offer the therapeutic and medical support our patients need with supervision from qualified medical staff during treatment and during medically monitored detox in Illinois.
Get Help from Banyan Heartland Today
It's never too late to make a change for the better. At Banyan Heartland, we offer the full scope of addiction treatment support for those who are ready to get and stay sober.
Whether you need help for yourself or help for a loved one, our Gilman, IL opioid treatment team is here to help.
Most Insurance Plans Accepted
At Banyan Detox Heartland, our goal is to make sure that anyone who needs treatment from drug and alcohol addiction is able to get the help needed to assist them on the road to recovery. If you don't have insurance contact us to inquire about alternate methods regarding treatment for yourself or a loved one.