Chicago Support Groups for Addiction
For many, addiction and recovery can feel like an incredibly isolating experience. It is possible that relationships have been damaged, and the person suffering from this disease may not even recognize themselves. As the healing process begins, Banyan's rehab in Chicago understands that one of the most important steps to recovery is community. This is why we are proud to offer effective support groups for addiction, giving participants a chance to develop relationships that can last a lifetime.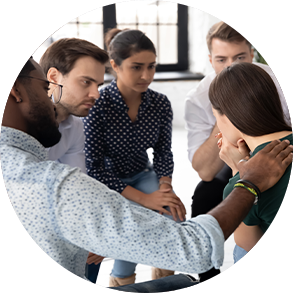 What Is an Addiction Support Group?
An addiction support group is a collaborative program that allows patients to come together and share their personal experiences with one another. These groups are intended to promote healing and help hold patients accountable among their peers. The type of program will determine what happens in group therapy. For instance, support groups for families of addicts may share different topics and activities than for individuals specifically struggling with opioid or alcohol addiction.
Benefits of Support Groups for Addiction
Addiction group therapy includes numerous benefits for individuals who are in the process of recovering from a substance use disorder. Individuals can share common group discussions and experiences, which helps a person not feel alone in their addiction or in the process of recovery. Addiction support groups are a powerful tool that provides a sense of community and security.
Primary Benefits of group therapy include:
Gaining motivation to stay sober
Developing recovery coping skills
Reduced depression symptoms
Creating new relationships for support
Learning how to control craving
Thanks to the support of addiction groups, self-acceptance and growth can be the outcome of addiction instead of long-term health risks or potential overdose. Meetings provide inspiration and the means to sustain lifelong recovery.
Group Topics for Addiction
Addiction support groups should begin with fun icebreakers so individuals can introduce themselves. A person can mention their name, something they like to do, and their biggest pet peeve. Other interesting topics can be discussing the neuroscience of addiction, gratitude, relapse, and ways to deal with stress. Also, groups can talk about their childhood memories and their positive and negative experiences.
At Banyan's Chicago drug rehab, we understand the importance of selecting suitable addiction group therapy topics. Our team of industry professionals works hard to ensure our patients can make the most of each session that they take part in. It is possible for people to turn from addiction and sustain sobriety. Building meaningful relationships while participating in addiction support groups is a wonderful way to ensure recovery.
Common Types of Addiction Recovery Support Groups
Recovery is not a one-size-fits-all experience. It is important that a treatment facility provides options to ensure that every patient receives care that is suited to their needs.
Common support group options can include:
SMART Recovery – This secular treatment program focuses more on altering negative thought patterns than it does on relinquishing control to a higher power. This helps patients who may not find themselves rooted in religion or spirituality but still wish to engage in a group recovery setting. It is aligned with themes of personal agency, self-reliance, and internal empowerment for one's own healing journey.
12-step programs – Alcoholics Anonymous (AA) and Narcotics Anonymous (NA) are the typical meetings that many people think of when they hear the phrase "support group." Unlike SMART recovery, 12-step programs function with the belief that the path to healing is accentuated by the release of control to a higher power. Participants will usually count their days sober as a means to track progress, with daily or weekly meetings being encouraged to help people maintain their sobriety.
Addiction Support Groups at Our Chicago Rehab
At Banyan's Chicago addiction treatment center, our specialists and licensed therapists offer group counseling for substance use disorders and support group therapy so individuals can live a life of recovery. We also offer unique therapeutic methods like art therapy and SMART recovery to help reduce or eliminate cravings.
Addiction support groups are an excellent and essential factor in treatment. One of our groups, the Christian 12-step program at Banyan Treatment Centers, provides a wonderful example of the effectiveness of addiction groups.
If you or a loved one is struggling with addiction, contact a specialist at Banyan Treatment Centers  Chicago and ask about our residential treatment program to get started today!
Related Readings:
Most Insurance Plans Accepted
At Banyan Chicago our goal is to make sure that anyone who needs treatment from drug and alcohol addiction are able to get the help needed to assist them on the road to recovery. If you don't have insurance contact us to inquire about alternate methods regarding treatment for yourself or a loved one.