Alcohol Addiction Treatment at Banyan Delaware
Alcoholism is an ongoing problem that's existed in the United States for years. Alcohol abuse is known for the physical, mental, and emotional damage it often leaves behind. A person will require alcohol addiction treatment when they're unable to go about their day or accomplish regular tasks without drinking. Alcoholism can quickly develop into a problem. A few drinks a week can quickly become a daily habit. An alcohol addiction is a chronic disease that's defined as the repetitive and consistent consumption of alcohol regardless of the impact it has on the person's well-being.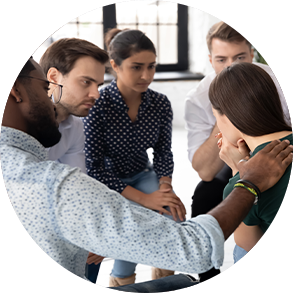 Because alcohol is so widely accessible, it's easy to get carried away with drinking and fall into an alcohol dependency. There's a big difference between occasional drinking and constant periods of binge drinking. Unfortunately, many people are in denial about their condition and believe they can quit whenever they want. However, the best way to manage the repercussions of alcohol abuse and achieve sobriety is with an alcohol addiction treatment.
Signs and Symptoms of Alcohol Addiction
While many alcoholics realize they need treatment after hitting rock bottom, high-functioning alcoholics may never reach this point. Sometimes their family and friends need to confront them about their problem and help them realize they need treatment for alcohol addiction.
Some common signs of alcoholism include:
Drinking in the morning
Feelings of unease, restlessness, and irritability when you're not drinking
Regular blackouts after binge drinking
Drinking alone often
Inability to go about daily duties without alcohol
Neglecting responsibilities with work, school, or family
Isolating yourself
If a family member or friend has approached you about drinking before
Tension in relationships with spouses, family, or friends
An alcoholic may struggle to cut back on drinking because of the physical dependency they've developed. In most of these cases, the individual is unable to function without alcohol. However, getting help from our rehab center in Delaware can make sobriety possible. In our treatment for alcoholism, a person with an alcohol dependency will receive care for symptoms that are specific to their condition.
Treatment at Our Alcohol Rehab Center in Delaware
At Banyan Delaware, we recommend most of our patients begin their substance abuse treatment with an alcohol detox. The detox process focuses on flushing out alcohol from the person's system. It's common for patients to experience withdrawal symptoms during this process. Our licensed and trained team of professionals offers safe and effective care, helping patients manage their withdrawal symptoms in the healthiest way possible. But this is only the first step in the recovery process.
Once the detoxification process is complete, the person will then move on to our alcoholism treatment to begin targeting the source of their addiction and examine how binge drinking has impacted their life. Through a combination of therapies, evidence-based practices, and substance-specific programs, our team implements a thorough approach to alcohol abuse treatment. In our alcoholism rehab program, patients will also participate in one-on-one sessions with therapists to actively work through the source of their binge drinking.
At Banyan Treatment Centers Delaware, we offer various and comprehensive substance abuse treatment to help people achieve sobriety. If you or a loved one is struggling with addiction, contact us today to learn more about our alcohol addiction treatment and residential addiction program.
Most Insurance Plans Accepted
At Banyan Treatment Centers, our goal is to make sure that anyone who needs treatment from drug and alcohol addiction are able to get the help needed to assist them on the road to recovery. If you don't have insurance contact us to inquire about alternate methods regarding treatment for yourself or a loved one.