Addiction support groups are an excellent and essential factor in treatment. One of our groups, the Christian 12-step program at Banyan Treatment Centers provides a wonderful example of the effectiveness of addiction groups. The type of program will determine what happens in group therapy. For instance, support groups for families of addicts may share different topics and activities than for individuals specifically struggling with opioid or alcohol addiction.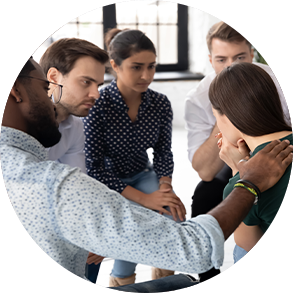 Benefits of Support Groups for Addiction
Addiction group therapy includes numerous benefits for individuals who are in the process of recovering from addiction. Individuals can share common group discussions and experiences, which helps a person not feel alone in their addiction or in the process of recovery. Addiction support groups are a powerful tool that provides a sense of community and security.
Primary Benefits of group therapy include:
Gaining motivation to stay sober
Developing recovery coping skills
Reduced depression symptoms
Creating new relationships for support
Learning how to control craving
Thanks to the support of addiction groups, self-acceptance and growth can be the outcome of addiction instead of long-term health risks or potential overdose. Meetings provide inspiration and means to sustain lifelong recovery.
Group Topics for Addiction
Addiction support groups should begin with fun ice-breakers so individuals can introduce themselves. A person can mention their name, something they like to do, and their biggest pet peeve. Other interesting topics can be discussing the neuroscience of addiction, gratitude, relapse, and ways to deal with stress. Also, groups can talk about their childhood memories and their positive and negative experiences.
It is possible for people to turn from addiction and sustain sobriety. Having a support system like an addiction support group is a wonderful way to ensure recovery.
Addiction Support Groups at Our Chicago Rehab
At Banyan Chicago, our addiction treatment center, our specialists and licensed therapists offer group counseling for drug addiction and support group therapy so individuals can live a life of recovery. We also offer unique therapeutic methods like art therapy and SMART recovery to help reduce or eliminate cravings.
If you or a loved one is struggling with addiction, contact a specialist at Banyan Treatment Centers and ask about our residential treatment program to get started today! 
Related Readings:
Banyan I'd like say that is the best rehab place for everyone to go the staff great the exactly..care nd show tender care love about anyone's situation they understand they feed use well pastor Mike nd the whole staff is wonderful I miss you guys nd staff 💙 so much

Great experience. Staff was incredible

I absolutely loved it here. I had no idea what to expect but it was truly everything they said to me on the phone. Thank you again!!!

Stuff is amazing! The clinical director Wayne is absolutely awesome. I'm eternally grateful 🙏

Marrissa,Patty and Diane were the best!There's alot if time in group but again I enjoyed the therapist and the opportunity to learn about others and share about myself.

Great experience. I'm still clean and sober. 63 days today. Would recommend Banyan at clear Brook with high regards. Thank you all. Life couldn't be better ....

Banyan Palm Springs changed my life! I think about therapist Jen and Charlie a lot- Their wisdom has stayed with me.

A family member is currently being treated at Banyan Philadelphia & I am absolutely thrilled with their professionalism, attention to detail, communication to the family, thoroughness, & most importantly the excellent care that they provide to their patients.
Most Insurance Plans Accepted
At Banyan Chicago our goal is to make sure that anyone who needs treatment from drug and alcohol addiction are able to get the help needed to assist them on the road to recovery. If you don't have insurance contact us to inquire about alternate methods regarding treatment for yourself or a loved one.