Alcohol Addiction Treatment at Banyan Chicago
Alcohol addiction also commonly known as alcoholism affects almost 18 million people in the United States alone. Alcoholism is the inability to control drinking due to a physical dependence on the drink. Alcoholism is a chronic disease that is characterized by repetitive alcohol consumption despite health or legal issues that stem from drinking. Alcoholics may struggle with cutting down on their drinking because of their physical dependence. In some cases, those who struggle with alcoholism must begin their day with a drink in order to function properly.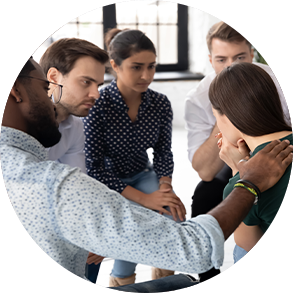 Alcoholism is not the only problem caused by the abuse of alcohol, besides the 18 million in the US who are full blown alcoholics, it is estimated that there are several million who engage in risky drinking patterns or "binge drink", and this can develop into problematic behavior in the future. This whole separate category of drinkers, also known as "functioning alcoholics" can do just as much damage to their lives without having a full-blown addiction to alcohol.
What Are The Warning Signs of Alcoholism?
Signs and Symptoms of Alcohol Abuse:
Having a strong craving or urge to consume alcohol
Lack in ability to fulfill work, school, or home obligations due to continued alcohol use
Withdrawal symptoms without drinking- sweating, shaking, or nausea
Spending a significant amount of time drinking, finding or recovering from alcohol
Unable to control the amount of alcohol consumed
Continuing consumption of alcohol after it is threatening health, relationships, work, or social life.
Advice from friends or family to cut down on the drinking, or quit altogether
Drinking alone
Amount of drinking is significantly more than most people you know
Making plans around drinking, drinking is the main focus of your day
Alcohol is one of the only substances that has negative effects on every single organ in the human body. When you drink, alcohol is absorbed into your bloodstream and distributed throughout your body.
Not only is alcohol damaging to every part of your body, but it is also one of the only substances that can cause death from withdrawal. Proper, medically supervised detox and individualized treatment are crucial to recovery for those who struggle with alcohol addiction.
Banyan Treatment Center's Alcohol Addiction Treatment
An alcohol addiction treatment plan comes with intense addiction therapy sessions including individual and group settings, education on the disease of addiction, family support groups, relapse prevention, rehab aftercare programs and so much more.
Banyan Pompano's goals are to support our clients during their recovery journey and always encourage their continuous growth. We feel that the more supported our clients feel, the more courage they will have to continue in their battle against addiction.
If you or someone you know is struggling with alcohol addiction or abuse, help is just a phone call away. Call Banyan Treatment Centers now, we are here to help: (888) 781-9297.
Most Insurance Plans Accepted
At Banyan Pompano Detox, our goal is to make sure that anyone who needs treatment from drug and alcohol addiction is able to get the help needed to assist them on the road to recovery. If you don't have insurance contact us to inquire about alternate methods regarding treatment for yourself or a loved one.