Opiate Addiction Treatment at Banyan Philadelphia
Opiates are a group of drugs with a high potential for abuse. Because opiates are so addictive, any misuse or abuse of these drugs can quickly lead to addiction. Although certain opiates are used to treat pain, commonly abused opiates like morphine, codeine, and heroin can deteriorate a person's mental and physical well-being over time. Even commonly prescribed opiates like codeine, fentanyl, hydrocodone, and oxycodone are highly addictive. A person who finds themselves dependent on these drugs should receive opiate addiction treatment at our drug and alcohol treatment center in Philadelphia.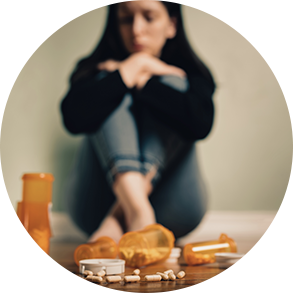 Signs an Opiate Treatment Is Necessary
Because most opiates are prescribed drugs, it can be easy to overlook a person's drug use when you think they're taking their prescription medication as needed. But as time progresses, the person's addiction will become more apparent and more dangerous. Without immediate opiate addiction treatment, the physical, mental, and even financial effects of drug abuse can be devastating.
If you or someone you know is taking opiates, you need to be able to recognize the signs of opiate addiction in order to get them help. Some common signs of opiate abuse include:
Constant drug cravings
Taking more than the prescribed dose
Taking opiates more frequently than directed by their doctor
Lying about the frequency or dose they take
Odd behavior or obvious changes in behavior
Mood swings
Extreme weight loss or weight gain
Stealing to maintain their addiction
When opiate abuse reaches this level, it can be devastating for the person and their loved one. Addiction often changes a person's character to the point where they're completely different; however, this behavior isn't set in stone. If you recognize these signs of opiate addiction in yourself or a loved one, we offer opiate addiction treatment that is specifically designed to treat this form of substance abuse. Our partial hospitalization program separates patients from their daily environments to give them the space and time they need to focus on their recovery without distractions.
Our Rehab Program for Opiate Addiction in Philadelphia
At Banyan Treatment Centers Philadelphia, our team is equipped to manage even the most severe cases of addiction. We understand how difficult it can be to watch someone you care about struggle with a substance abuse disorder or quit using drugs or alcohol on your own. Our Philadelphia opioid addiction treatment is designed to guide patients through the recovery process so they can walk out of our doors with all of the tools and skills they'll need for long-lasting sobriety.
The first step to overcoming most addictions is undergoing one of our medically monitored detox programs. Our detox treatments are administered by medical personnel who know how to properly address withdrawal symptoms through the use of medications and additional treatment methods. During detox, clients will receive round-the-clock care to ensure their withdrawal symptoms are safely managed and that any medical emergencies that occur are properly handled.
After patients have undergone an opiate detox, they can then move onto treatment for opiate addiction. Patients' needs will be met through our levels of care depending on their treatment needs. Throughout their time with us, patients will be exposed to a variety of therapy methods that offer an in-depth and comprehensive approach to substance abuse treatment. We believe that incorporating unique programs and therapies allows us to address every detail of the patient's condition.
Our goal is to not only help the patient physically overcome their drug dependency but to also give them the tools they'll need to sustain their sobriety for the rest of their lives. Staying clean is an everyday decision that addicts in recovery have to make – we can help make that decision clearer.
Whether you or a loved one needs addiction treatment, we're here to help. Contact us today to learn more about our addiction treatment programs in Philadelphia.
Most Insurance Plans Accepted
Addiction treatment doesn't need to be out of reach. At our drug rehab in Delaware, our goal is to assist as many people as we can. We accept a variety of insurance plans to help people get the addiction treatment they need. If you do not have health insurance, there are other ways to pay for treatment. Call us today to see if your insurance will cover your treatment program and to talk about alternatives if necessary.