Alcohol Addiction Treatment at Banyan Philadelphia
According to the National Institute on Alcohol Abuse and Alcoholism, 15.1 million adults in America are afflicted with alcohol use disorder, and alcohol is the third leading preventable cause of death in the United States.1 Alcoholism is a disease that has affected the lives of so many individuals and their family members. This chronic disease is characterized by repetitive alcohol consumption, despite its negative effects. Addiction is a brain disease that can take over a person and their actions. As more and more alcohol is consumed, the body is destroyed. In some cases, those who struggle with alcoholism must begin their day with a drink in order to function properly. This physical dependence can lead to other health complications that are potentially fatal. We provide alcohol addiction treatment in Philadelphia, and we explain how an individual can overcome this disease. Long-term recovery is possible with effective alcohol treatment.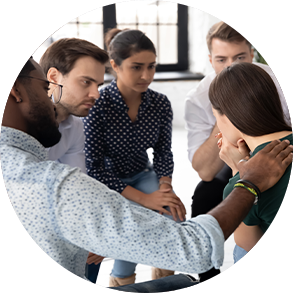 Signs and Symptoms of Alcoholism
There are often clear signs that someone is addicted to alcohol, and it's important to spot them early on. Our Philadelphia alcohol rehab is sharing some of the warning signs of alcoholism that you should be aware of for both your loved ones or yourself.
Signs of an alcohol problem include:
Frequently having a strong urge to drink alcohol, no matter the time of day
Starting the day with a drink instead of coffee
Getting in trouble with the law because of alcohol use
Drinking alone
Not participating in normal work or school activities because of intoxication
Frequent blackouts
Drinking and driving
Making excuses in order to drink
Withdrawal symptoms when not drinking, such as sweating, shaking, and nausea
Our Alcohol Treatment in Philadelphia
If you or your loved one are showing any of the above signs of alcoholism it's time to get the help you need. Alcohol addiction treatment should be designed to meet the needs of the individual who is struggling. To meet these individual needs, we offer different addiction treatment programs in Philadelphia depending on what is in the best interest of the patient. When someone who is addicted to alcohol realizes that they have a problem, treatment will allow them to get to the root of their addiction and learn ways to overcome the disease. A medical assessment will be given to determine the best treatment plan and patients will be able to start their recovery journey.
Professional alcohol treatment should be administered in a safe and comfortable environment, so that the patient can focus solely on reaching long-term sobriety. During our Philadelphia alcohol addiction treatment, patients will learn how to fight future cravings to prevent relapse. Our therapists work one-on-one with patients to successfully change unhealthy thought patterns that once led to substance abuse. We pride ourselves on dedicating our time and resources to ensure the success of each client during treatment. In the case of a relapse, do not fret. Our PA addiction stabilization program is designed to get you back on track and prevent a return to your addiction.
Most Insurance Plans Accepted
Addiction treatment doesn't need to be out of reach. At our drug rehab in Delaware, our goal is to assist as many people as we can. We accept a variety of insurance plans to help people get the addiction treatment they need. If you do not have health insurance, there are other ways to pay for treatment. Call us today to see if your insurance will cover your treatment program and to talk about alternatives if necessary.