Opioid Addiction Treatment at Banyan Palm Springs
Opioids have been an ongoing problem in the United States; abuse of these drugs has escalated to the point of causing an opioid epidemic in California and other areas across the country. A recent study reported that over 16 million people worldwide are affected by an opioid use disorder, with 2.1 million of those people residing in the U.S.1 From prescription drugs like fentanyl and oxycodone to illicit drugs like heroin, opioid abuse continues to cause problems for people all over the globe. Despite the repercussions of substance abuse, many people will fail to receive opioid addiction treatment.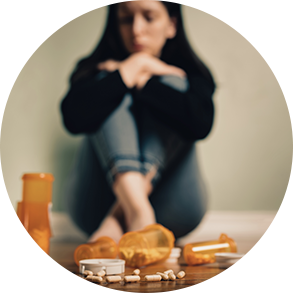 What Are Opioids?
Opioids are a class of drugs derived from the opium poppy plant. Commonly prescribed opioids include fentanyl, oxycodone, Percocet, codeine, and morphine. These medications are normally prescribed to treat chronic or severe pain, or for alleviating pain after a procedure. Heroin is an illegal opioid that's usually used by injecting it into the arm or leg. While most opioids that are abused are usually prescribed, it doesn't mean they aren't dangerous. Many people need opioid addiction treatment because of the way these drugs change the brain's chemical makeup. Opioids block pain signals by attaching themselves to the opioid receptors in the brain. In addition to pain relief, they can also produce feelings of euphoria and pleasure. These combined side effects are what initially hook users and keep them hooked to the point of addiction. Without opioid abuse treatment, a person struggling with this disease may be unable to quit on their own.
Signs of Opioid Abuse and Opioid Withdrawal Symptoms
Because they're often used in the medical field, and so many people are prescribed these drugs, it can be hard to catch the warning signs of opioid abuse. There are several signs that someone needs opioid addiction treatment, including noticeable changes in mood, behavior, and overall demeanor. Opioid addiction is also accompanied by physical changes as well.
Some mental and physical signs of opioid abuse include:
Doctor shopping (switching from one doctor to another to get more prescriptions)
Lying
Deceitful behavior
Withdrawing from loved ones
Pinpoint pupils
Inability to sleep or sleeping too much
Drug paraphernalia like burnt spoons, needles, or empty pill bottles
Frequent confusion
Memory problems
Anxiety
Shallow breathing
Fluctuation in weight
Although everyone is different, these are the more common signs of opioid addiction that most addicts struggle with. Without opioid addiction treatment, these side effects can also lead to more severe health problems, like hyperalgesia, which is a condition that causes hypersensitivity to pain. Because opioids are so addictive, many people who attempt to stop using them on their own usually experience intense withdrawal symptoms. Because these symptoms can become life-threatening without medical supervision, opiate detox is recommended.
Choose Our Treatment for Opioid Addiction
Opioids are highly addictive drugs that can have a huge impact on a person's health if misused or abused. In addition to medical detox, treatment for opioid abuse is recommended for those who are struggling with this disease. Before any of this happens, patients at our drug and alcohol rehab in Palm Springs will undergo a medical assessment upon arriving at our facility. These assessments are done in order to decide which one of our programs is best suited to the individual's needs. It also gives our team insight into the severity of the person's addiction, their health condition, and their mental state. Addiction and mental health are often intertwined, so some patients may require dual diagnosis treatment.
Recovery is a life-long commitment that can change with every passing day. Some days may be harder than others, but it will always be worth it. If you or someone you know needs an opioid rehab program or any other form of addiction treatment, contact us at Banyan Treatment Centers Palm Springs today to find out more about our different levels of care.
Stuff is amazing! The clinical director Wayne is absolutely awesome. I'm eternally grateful 🙏

Marrissa,Patty and Diane were the best!There's alot if time in group but again I enjoyed the therapist and the opportunity to learn about others and share about myself.

Great experience. I'm still clean and sober. 63 days today. Would recommend Banyan at clear Brook with high regards. Thank you all. Life couldn't be better ....

A family member is currently being treated at Banyan Philadelphia & I am absolutely thrilled with their professionalism, attention to detail, communication to the family, thoroughness, & most importantly the excellent care that they provide to their patients.

Clearbrook saved my life. Therapist and Staff were wonderful and would bend over backwards to help you in any which way they could.

The staff worked with me diligently on this. I have to give a shout-out to Kat on this one, as she convinced me to stay and try it out.

The treatment program was amazing and 14 weeks later he is still in recovery and living in a sober living arrangement and back working.
Most Insurance Plans Accepted
At Banyan Palm Springs, our goal is to make sure that anyone who needs treatment from drug and alcohol addiction is able to get the help needed to assist them on the road to recovery. If you don't have insurance contact us to inquire about alternate methods regarding treatment for yourself or a loved one.