Alcohol Addiction
Rehab Program at Banyan
It's no secret that alcohol abuse can cause serious long-term physical and mental health problems. Because alcohol is legal for adults ages 21 and older, many believe that it's safe to drink. However, a few drinks a day, every day, can quickly lead to binge drinking, resulting in dependency. It is also why Banyan is proud to offer a program for alcohol rehab in Massachusetts that can address these instances and turn an alcoholics' life around. Read on to learn more about the dangers of excessive drinking and how our programs can help you.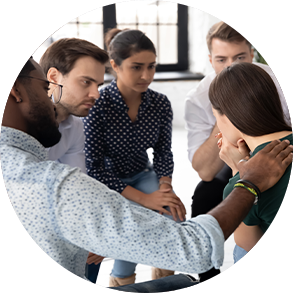 More About Alcoholism
Alcoholism can be defined as the inability to control or stop drinking because of a physical dependency. It's a chronic disease that is characterized by repetitive alcohol consumption despite health or legal issues that stem from drinking. When an individual can't seem to go about their day or complete their regular tasks without alcohol, then that's when their alcohol addiction is most apparent. 
Alcohol is often readily available and consumed in many social settings. It's also often portrayed as a fun addition to social gatherings in TV shows, movies, and advertisements. However, drinking can quickly spin out of control if not properly managed. There is a difference between drinking casually and binge drinking. Getting help for alcohol abuse isn't always easy. For many people, it takes intervention services to help their loved ones realize they need alcoholism treatment. Alcoholism only gets worse over time, so effective alcohol addiction treatment is crucial. 
Signs and Symptoms of Alcoholism
Alcoholics may struggle to quit or cut down on their drinking because of the physical dependency they've developed. In many cases, those who struggle with alcoholism must begin their day with a drink to function properly. However, despite the problems that this disease may cause, many individuals with a drinking problem don't realize it right away. Sometimes it takes the support of friends and family members to help the addicted individual realize that they need alcohol addiction treatment. 
Some common signs of alcohol abuse include: 
Waking up and having a strong urge to drink alcohol

 

Experiencing restlessness, sweatiness, and nausea when you aren't drinking (these are common alcohol withdrawal symptoms)

 

Regular blackouts from drinking alcohol

 

Getting in trouble with the law while intoxicated

 

Drinking alone numerous times

 

When daily responsibilities are getting neglected such as work, school, and family care

 

A family member or friend has approached you about your drinking habits

 

Relationships

are starting to become negatively affected by your drinking

 
It's important to understand that alcohol affects your entire body, and long-term alcohol abuse can have serious repercussions. Life-threatening risks are often linked to alcohol abuse. Once a person realizes they need treatment for alcoholism, they can take their first step in recovery with our detox partnerships.  
At our alcohol addiction rehab in Massachusetts, we recommend our patients begin their overall treatment plan with detoxification to flush out toxins from their system and aid them in physical healing. Alcohol withdrawal symptoms can also be uncomfortable and dangerous without medical supervision. Team members that conduct these detox treatments are trained to manage these symptoms safely. 
Alcohol Abuse Treatment in Massachusetts
At Banyan Massachusetts, we create customized plans for each of our patients to ensure they receive safe and effective care during their alcoholism treatment program. Our proper medical assessment will allow us to design your unique treatment program that may include a 12-step program, holistic treatment, family support groups, relapse prevention techniques, and so much more.  
The goal of our Massachusetts addiction treatment centers is to support our patients during their recovery journeys and encourage their continuous growth. With the right kind of help and treatment, you will have the courage to combat your addiction and sustain your sobriety after you leave our facility. We offer options for partial hospitalization and outpatient rehab, giving patients the flexibility to move through treatment at their own pace. You do not have to remain stuck in the cycle of substance abuse and relapse. 
Recovery is possible, and we are here to help guide you through the entire journey. Contact us today to get effective alcohol treatment in Massachusetts that can help you or someone you love. 
Related Reading 
The Long-Term Effects of Alcohol  
The staff is great and very supportive. The facilities are clean. The groups are informative. My therapist and case manager were amazing.

banyan was decent not bad for a facility

Highly recommend this Treatment Center. Grateful for my time there. The staff is compassionate, caring and above all empathetic.

Gorgeous facility! My sister was a patient and I couldn't be happier with the progress she made.

Foods great. Php was an experience. Groups are great

that my caseworker did a awesome super job on taking care of my business also seen me without an appointment when I needed her Thanks

The Most greatest case worker on the planet 👍🥰🙏
Most Insurance Plans Accepted
At Banyan Massachusetts, our goal is to make sure that anyone who needs treatment from drug and alcohol addiction is able to get the help needed to assist them on the road to recovery. If you don't have insurance contact us to inquire about alternate methods regarding treatment for yourself or a loved one.