Alcohol Addiction Treatment at Banyan Palm Springs
Although legal in the United States for people over the age of 21, alcohol is still a dangerous substance that can be addictive. Alcohol abuse can lead to serious health problems, physically and mentally, as well as run-ins with the law, relationship issues, and financial problems. Although several people have unhealthy relationships with alcohol, the fact that drinking is a social activity can make it hard to tell who likes to drink and who needs alcoholism treatment. Our Palm Springs rehab center helps people stop drinking and learn how to live without it.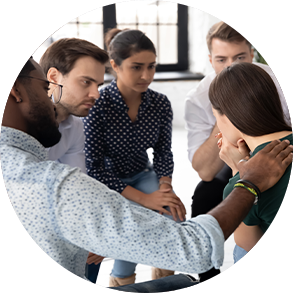 Signs Someone Needs Alcohol Abuse Treatment
Because alcohol abuse can be so destructive, it is important that people are able to recognize bad drinking habits in themselves or their loved ones as soon as problems arise.
Some common signs of alcoholism include:
Drinking any time of day
Drinking at work
Letting alcohol and drinking get in the way of other responsibilities
Drinking alone
Making excuses about drinking
Concealing the amount of alcohol consumed
Getting into trouble with the law from drinking
Frequently blacking out or always drinking to excess
Our Alcohol Rehab Center in Palm Springs
Trying to stop drinking is challenging and going about it on your own can be almost impossible. At Banyan Palm Springs, our California alcohol treatment center helps people struggling with various degrees of alcoholism find long-term sobriety.
The first step to alcohol addiction treatment is detox. Our alcohol detox center provides a comfortable environment away from their everyday lives where people can wean their bodies off alcohol and its toxins. With constant medical supervision and care, our patients can ensure that they are safe, and our staff will help reduce the intensity of common withdrawal symptoms that accompany this process for alcoholics. Although detox is a necessary first step, treating an alcohol addiction in its entirety is a lot more involved. Often alcohol abuse is connected to poor mental health, and in order for people to find long-term sobriety, they must address these problems as well during their alcohol dependence treatment program.
During residential alcohol treatment, our patients will engage in a variety of different programs and therapies. This programming is meant to address frequent problems that alcoholics face as well as educate our patients on how to deal with common alcohol triggers that could cause them to fall off the wagon. Because the patients in our alcohol addiction treatment in Palm Springs will be working in groups with other recovering alcoholics, our program helps build a community of support that they can come to rely on even after their treatment is complete. Because every patient is unique and alcohol abuse is different for everyone, each patient will also participate in individual therapy sessions with a designated therapist throughout their time with us. This therapist can help the patient work through their unique problems and alter the patient's treatment plan to meet their specific needs.
At Banyan Palm Springs, we want to help you or your loved one learn to live without alcohol. If you are ready to take back your life or want to know more about helping a loved with a drinking problem, contact us today to get started.
Jeff and Mackenzie were absolutely amazing and I learned the most from them.

I recommend this facility to anyone who is in addiction and who wants help! I learned a lot here in Banyan.

The program is really great and has helped me grow in my recovery. Staff was amazing and food was superb.

The family zoom meetings have helped me so much. I attend weekly and have learned so much being a family member of an alcoholic/addict.

Very nice facility. I have learned alot and my therapist Amy and my case manager Shannon, helped me alot. The facility and food is amazing.

I can say without fail that this facility truly cares about their clients.

From the very beginning Banyan took great care of me mentally, physically and spiritually. He witnessed first hand my transformation.

Working with Matt Daily from Clearbrook has been fantastic!
Most Insurance Plans Accepted
At Banyan Palm Springs, our goal is to make sure that anyone who needs treatment from drug and alcohol addiction is able to get the help needed to assist them on the road to recovery. If you don't have insurance contact us to inquire about alternate methods regarding treatment for yourself or a loved one.