Alcohol Addiction Treatment at Banyan Stuart
While drinking is legal for those age 21 and older, over 14 million adults in the United States have an alcohol use disorder.1 A large portion of these people may not even realize that they have a problem or be in denial about it, but alcohol abuse is dangerous. Alcohol can come to control someone and lead to serious problems in several different areas of their life. Our residential addiction treatment center could help you or a loved one get back in control.
Signs of Alcohol Addiction
Because drinking is such a popular activity, it can be hard to tell when someone has a drinking problem and needs alcohol addiction treatment. There is fine line between heavy drinking and alcohol dependency, but the best way to draw this line is to be able to recognize the signs of alcoholism.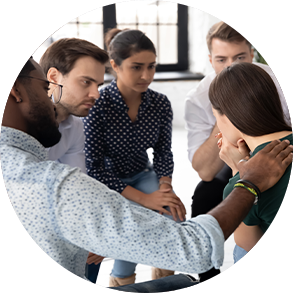 Some signs that someone may need alcoholism treatment include:
Cravings or urges to drink
Drinking at all hours of the day
Drinking alone
Mood swings
Drinking to cope with problems
Lying about the amount of alcohol being consumed
Experiencing withdrawal symptoms when not drinking
Making excuses to drink or turning every occasion into a drinking event
Frequently drinking to the point of blacking out
Continuing to drink regardless of the consequences
Prioritizing drinking
Although drinking is a common social activity, it can be dangerous. Occasional binge drinking can lead to car accidents, injuries, and alcohol poisoning. Over time, heavy and/or frequent alcohol consumption can lead to serious health problems, as well. To avoid such dangers or to minimize their damage, it is better to get alcohol abuse treatment at the first sign of alcohol dependency.
Our Alcohol Rehab Center in Florida
People of all ages and backgrounds struggle with their alcohol consumption. At Banyan Detox Stuart, we help people change their unhealthy relationship with drinking and learn to live a happier and healthier life without alcohol.
The first step in this process is usually an alcohol detox. With time, the body will become dependent on alcohol and make changes to adjust to its frequent presence. A detox is required to slowly wean the body off of alcohol so that it can readjust to its absence and help break the cycle of addiction. This part of alcohol dependence treatment will usually lead to withdrawal symptoms that can range from mild to severe, so it is always better to undergo this process under the supervision of professionals, like at our alcohol treatment center in Stuart.
Once the body has been safely cleansed of alcohol, the next phase of alcohol addiction treatment involves combating the underlying causes of the alcohol addiction as well as preparing for life outside of treatment. To help patients with both, we offer several different types of addiction therapies and activities that they will partake in regularly. This programming is meant to take a comprehensive approach to alcohol addiction treatment so that patients can find lasting sobriety. The benefits of going to an alcohol abuse treatment center is that the setting offers patients a support system who understands what they are going through as well as a safe environment that separates them from their usual alcohol triggers. Our small staff-to-client ratio will also ensure that each patient gets the individualized attention they need to find success in their recovery journey.
Drinking shouldn't control you or interfere with a loved one's life any longer. If you or a loved one is in need of alcohol abuse treatment, do not wait to get help. Contact us today to learn more.
Most Insurance Plans Accepted
At Banyan Detox Stuart our goal is to make sure that anyone who needs treatment from drug and alcohol addiction are able to get the help needed to assist them on the road to recovery. If you don't have insurance contact us to inquire about alternate methods regarding treatment for yourself or a loved one.