Alcohol Addiction Treatment at Banyan Texas
Alcohol abuse has been an ongoing problem in the United States for decades. Because alcohol is often readily accessible, many individuals struggle with alcohol addiction. According to the Centers for Disease Control and Prevention, adults consume over 17 billion binge drinks per year. Researchers also discovered that nearly 37 million adults binge drink at least once a week.1 As a Texas drug and alcohol treatment center, we know that alcohol use disorder is a common and problematic disease that requires comprehensive treatment. That's why we offer an alcohol addiction treatment at Banyan Texas.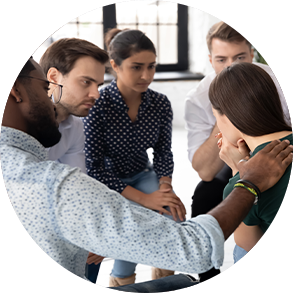 What Are the Signs and Symptoms of Alcohol Abuse?
Although many people believe that an alcoholic has to hit rock bottom before getting treatment for alcoholism, this isn't always the case. Many individuals are able to carry on with their daily lives without portraying any underlying issues. Individuals who can conceal their addiction and succeed in work, school, and in taking care of their families are referred to as high-functioning addicts. Alcohol affects everyone differently, and just because a person doesn't hit a wall in their addiction doesn't mean they don't need alcoholism treatment. Even in functioning addicts, binge drinking can lead to relationship problems, health problems, and more.
The most common signs of alcoholism include:
Experiencing frequent blackouts or gaps in memory
Irritability and extreme mood swings
Making excuses for binge drinking
Prioritizing drinking over other responsibilities
Drinking alone
Isolating from others
Feeling hungover even when you haven't consumed alcohol
Sudden changes in appearance
Sudden changes in your group of friends
If you recognize these signs of alcohol abuse in yourself or a loved one, it's time to get help. At Banyan Treatment Centers Texas, we offer a variety of addiction services including an effective alcohol rehab program that can help patients quit drinking and get sober.
Detox: The First Step in Treatment For Alcohol Addiction
Before undergoing alcohol addiction treatment, most patients at our Texas rehab center undergo alcohol detox. It's common for addicts in recovery to experience withdrawal symptoms within the first few weeks after they've quit drinking or using. These symptoms can be dangerous and even life-threatening if they aren't monitored and treated properly. Our detox treatments in Texas are led by our medical personnel who are equipped to administer any medications or other forms of care as needed. Each patient is different, so our Texas detox programs are individualized to meet our patients' needs.
Our Alcohol Rehab In Texas
At Banyan Treatment Centers Texas, we offer effective and comprehensive alcohol addiction treatment for people who want to achieve their recovery goals. Our rehab facility is located in peaceful Waelder, Texas. Patients looking to recover from alcoholism can benefit from our facility's relaxing and comfortable setting and focus on their sobriety.
As previously mentioned, the first step for most patients who are receiving addiction treatment with us is medical detox. This step is usually taken to help patients safely wean off of the substance in question and combat addiction cravings. Attempting to detox at home is dangerous and our rehab center strongly advises against it.
Following detox, patients can then move on to our residential treatment program or another rehab program to begin focusing on the underlying issues associated with alcoholism. The psychological aspect of dependence is just as strong as the physical aspect; though they are two sides of the same coin, they each need to be addressed differently. Our residential treatment in Texas includes personalized therapies for addiction treatment and additional programs that help patients identify the negative thoughts and emotions behind their addiction. With these treatments, patients will not only learn healthy coping mechanisms and life skills, but they'll also gain a better understanding of their condition and gain control over their lives.
Alcoholism is a challenging substance abuse disorder, but sobriety is possible. With the right rehab program for alcoholism, any men and women who walk through our doors can overcome their alcohol addiction. If you or someone you know is struggling with a drinking problem, contact us today to get help for yourself or help for a loved one.
Most Insurance Plans Accepted
At Banyan Treatment Centers, our goal is to make sure that anyone who needs treatment from drug and alcohol addiction are able to get the help needed to assist them on the road to recovery. If you don't have insurance contact us to inquire about alternate methods regarding treatment for yourself or a loved one.